Just like everyone in the world, the onset and spread of Coronavirus- (covid-19) disrupted my way of life. No longer was I traveling at least once a month. No longer was I walking to work and working in an office. My life was then filled with Zoom virtual happy hours, lots of zoom meetings, working crazy hours, having home and work blend all together into 1 long month of March.
And then..June hit. And it was like "WOW! it's JUNE! Wasn't it Feb 29 just yesterday??"
The UK government recently updated their lockdown rules, where we were now able to travel a little throughout the UK. We were now able to travel around the country, and not just to go on our daily exercise walk. We were not able to spend overnight anywhere besides our home, but we were able to at least be somewhere else than our home.
So Husband I took this opportunity to go on daily road trips throughout Southern England from our London Home over the course of a few days.
Over the course of several days, we traveled to:
Brighton
When I was in University, I actually studied abroad for a summer at the University of Sussex, which is about a 5 mins train ride from Brighton. So going back to Brighton for me always brings back fond memories, and I wanted to share them with my husband.
Brighton is about 1 hour train ride from London, with the train station letting you out into the heart of Brighton. Everything from here is walking distance.
It's often considered the LBTQ+ capital of the UK; as well as the place where most people have their hen/stag nights (in otherwords, bachelor/bacherlotte parties). It's got a hippy vibe, with lots of vegan restaurants and interesting fusion restaurants. It's got lots of bars and clubs. It's a fun place
If you find yourself in Brighton, here's my top recommended activities to check out:
Viewing the Brighton Royal Pavilion – The Royal Pavilion is an incredible peculiar building from the outside and feels really out of place. And then you go on the inside, and it's even more out of place. The Pavilion was the former summer home for the Monarchy, with exterior and interior design done that do make you feel like you're in Asia.

Unfortunately due to Covid restrictions, we were unable to enter the building this time. I've gone 2x in the past and can recommend
2. Wandering around the Lanes – The Lanes are a unique shopping are of Brighton, with zig-zagging paths of storefronts that can range anything from a button store, to a fancy All Saints store, to a cocktail bar, to a vegan breakfast joint, or to a record store. These paths are pedestrian only and a really great way to see the uniqueness of Brighton and all it has to offer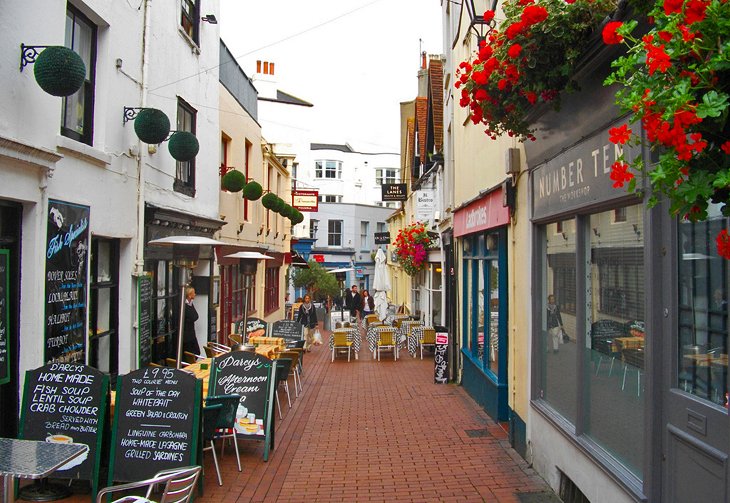 3. Enjoying the beach front – The beachfront is big, i mean it's where Londoners go to "go to the beach". There is a great pier that has rides + classic british food, like fish and chips. Sadly the pier was closed. But, the beach front is quite long (>1 mile) that has many restaurants/bars/what nots. We were really able to enjoy this during the covid time. We walked along the beach, drinking a beer and taking in the fresh british channel air. During the summer time and hot days (which are >15C), the beach will be PACKED with people in their swimsuits
4. Finding that iconic Banksy artwork – Needless to say, this is cool to see. It's ~1 block east of the Brighton Train Station
5. Drink, explore, eat, dance – In a non-covid world, this city is one of my favorite places to go out. One day….again
I always love being in Brighton and will always recommend others to check it out. It's a fun place with a great vibe.
I'll post about our trips to Southern England and Cornwall soon!